Models for a Fictional Academy
The Hungarian University of Fine Arts cordially invites you
to the opening of the exhibition entitled
Models for a Fictional Academy
at 7 PM, 28 November 2006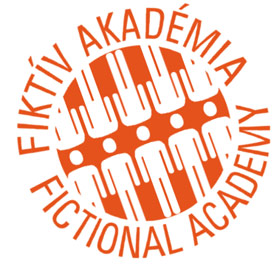 Opening speech by: Frigyes Kőnig rector of the Hungarian University of Fine Arts
Curated by: Eszter Lázár
Venue: Hungarian University of Fine Art, Barcsay Hall,1062 Budapest, Andrássy út 69-71.
ARTISTS
Copenhagen Free University (DK)
Future Academy (UK) - Future Academy (UK) - Clémentine Deliss in collaboration with Future Academy members 2003-2006
Christian Jankowski (D)
Roman Dziadkiewicz / Agata Dutkowska, Zorka Wollny (Pl)
Mischa Kuball and students from the HFG Karlsruhe (D) in collaboration with students from the Academy of Fine Arts and Design, Bratislava and the Hungarian University of Fine Arts
Lendvai Ádám (H)
Michal Moravčik (SK)
Arturas Raila(LT)
Veszely Beata (H)
On view until: 10th January 2007, Opening hours: Mo-Fri: 10AM - 6PM, Sat: 10AM - 1PM
The exhibition is closed between 22nd December 2006 and 3rd January 2007.
Models for a Fictional Academy *
Exhibition at the Hungarian University of Fine Arts
29 November 2006 - 10 January 2007
"These days the most noticeable change that can be observed in connection with art academies is in the composition of the student body," writes Clémentine Deliss, the founder of Future Academy. Another determining factor is the traditional structure, originating from old times, which still characterises state universities specialising in art education.
The international exhibition entitled Models for a Fictional Academy searches for alternatives (methods, possibilities, ideas) in the contemporary application of the original meaning of art academy / university. It explores how all this has changed and what tasks art academies must undertake today.
The presented works and the workshop associated with the program introduce varying methodological approaches used by the system of art institutions and education. They reflect on the nature of the present circumstances either by using as a point of departure the traditions, ideologies and the, in many respects, rigid structure linked with the institution (the building of the institution) or by seeking solutions filled with site-independent interdisciplinary content, which cannot be measured in credits, thereby placing knowledge product before form product.
The exhibition also looks for answers to the questions: What relationship can an academy, as a special cultural institution, have with artists and the public, and what is the significance of such a connection? How has this relationship changed in past decades and how should it be redefined for the future? Should an institution of higher learning take role in contemporary art discourse, or should it strictly fill an educative function?
The academy is an officially accredited institution of art education and learning ? even if the question of whether art can really be taught in an institutional framework has still not been satisfactorily answered.
A considerable portion of art research takes place under the auspices of universities. In this sense, universities fulfill a similar function to galleries with respect to artwork that has entered the commercial market. The academy, in addition to being the site of education, is also a place of creating art (studio), and of displaying the product (like a gallery showing artwork). In most cases, it is also a museum of significant collections. Within the institutional network of art, a university can be defined as a site which unifies all of the above functions.**
In past years a number of initiatives have been launched on the international art scene with the objective of analysing the relationship of art and art education, of exhibition spaces and schools, bringing to the foreground the demand for a living relationship between the teaching of art and manifestations of art ? the latter being important from an educational perspective also. The main organisers of Manifesta, which operates within a nomadic biennial system, have chosen curators for this year (Manifesta 6), who have for their goal the establishment of an international "fluid" school (a program, which could not be implemented as a result of various local and international, cultural and political conflicts as well as communicational hiatuses). It is also no accident that the Documenta 12 of Kassel in 2007 will be organising one of its subsequent grandiose international programs around the theme of education.
Models for a Fictional Academy can be regarded as approaching the phenomenon from the opposite side: with an understanding of art spaces, platforms and operating mechanisms, the university redefines for itself the contemporary meaning of art education.
In the context of an imagined academy, we must consider the exhibition more as a question, rather than a definite answer. Because of administrative regulation that supersedes university framework, the different interests of students and the demands of a public that "consumes" art of varying standards, an "ideal", viable combination of ideas can only constitute a temporarily established, fictional institution.
* The word 'academy' was the name of an ancient olive wood where Plato's school operated. School is one of its meanings still today, be it a school of art, of military or a special training institute. Its other meaning has become widespread since the 17th century: an intellectual society, which subscribes to a given set of principles. Painting and literary academies were established in accordance with this. In Anglo-Saxon territories, the term 'academy' gained a wider meaning: it incorporates as a social group (in addition to the scientific society) all persons who possess a PhD.
** Jan Verwoert: Lesson in Modesty ? the open academy as a model
2006. november 24.
Megnyitó: 2021. november 6. 18:00
Helyszín: MKE, Barcsay Terem
Megtekinthető: 2021. november 07– december 4.
2021. október 26.
Megnyitó 2021. okt. 26., 18:00
Helyszín: Epreskert, Parthenón-fríz Terem
Megtekinthető: 2021. okt. 27-  nov. 05.
2021. október 22.
Időpont: 2021. október 21., 10:30
Helyszín: MKE, Kondor Béla Galéria
Megtekinthető: 2021. november 14-ig
2021. október 19.